3CX IP PBX
---
An open, vendor-independent business phone system that grows with your business.
Phone VoIP installs 3CX phone system for Windows – a software-based IP PBX, which replaces traditional proprietary hardware PBXs, and is based on the SIP industry standard.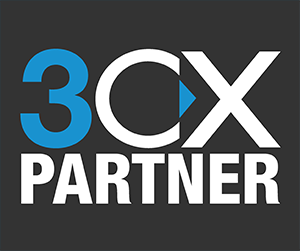 As an easy to manage, feature rich system which integrates well with Windows Network infrastructure, 3CX truly transforms the way a business communicates. Based on the SIP standard it supports most SIP phones, VoIP Gateways, VoIP service providers and PSTN phone lines.

Benefits of 3CX:
No need for separate phone cables as the phone system uses the existing data network
Easier to install and manage via its web-based management console
Far less expensive than a hardware-based PABX
Allows employees to hot-desk and tele-work
Users can configure their extensions themselves using the self-service User Portal
Utilize any SIP phone instead of being locked into one vendor
Receive and make calls via existing phone lines using VoIP Gateways
Save on call costs by using internet telephony service providers – check the rates
3CX Phone System is licensed based on the number of simultaneous calls (internal & external) that your company makes. All editions support an unlimited number of extensions.
Have a look at the videos here or you can explore the 3cx website for more features, or contact us for more information.